When purchasing your first CBD product, you're probably going to be overwhelmed with words such as isolate, distillate, and full-spectrum. This might deter you from clicking on the buy button or have you add a bunch of different items to your cart–fear not, this post will explain everything for you.
What is CBD Isolate?
CBD stands for cannabidiol, the second most prevalent active ingredient in cannabis, but it's derived directly from the hemp plant. CBD isolate by itself contains no psychoactive compounds (no THC), it's completely legal, and it's known to provide safe and relaxing effects.
In order to produce CBD isolate, manufacturers use a variety of different processes to extract all the compounds and other substances from the hemp and cannabis plants, including THC. The process leaves behind pure CBD in crystal form.
Three Most Common Methods Of Extraction
Carbon Dioxide (CO2) Extraction - the most popular and reliable extraction method that uses multiple pressurized chambers to funnel and pump the CO2. This exposes the plants to very high pressure and low temperatures which results in an extracted oil high in CBD.
Steam Distillation - this extraction method uses a 'plant material' distillation tank which is connected to another water-filled tank situated right below it. Water is then boiled and the steam travels upward to the plant material tank, separating the oil vapors containing CBD.
Solvent Extraction - similar to steam distillation, but instead of the water, another solvent is placed in the second tank. This method is more efficient than steam distillation, but it usually involves butane, alcohol, propane, olive oil, or ethanol to extract the CBD, potentially leaving toxins in your CBD.
What is CBD Distillate?
On the other hand, CBD distillate is a highly refined extract that has undergone a distillation process. It usually contains 70-80% of CBD isolate, but includes other cannabinoids too. Since it contains other cannabinoids, it's called full-spectrum, and it usually contains some THC. All products in Florida have to abide by the law that states THC must not exceed 0.3%, so there shouldn't be enough THC in any CBD products to get you high. Unlike the white, crystalized form of CBD isolate, CBD distillate is a viscous, golden oil.
You can make CBD isolate from CBD distillate by purifying it and undergoing a process called recrystallization, which strips everything off and leaves only pure CBD behind.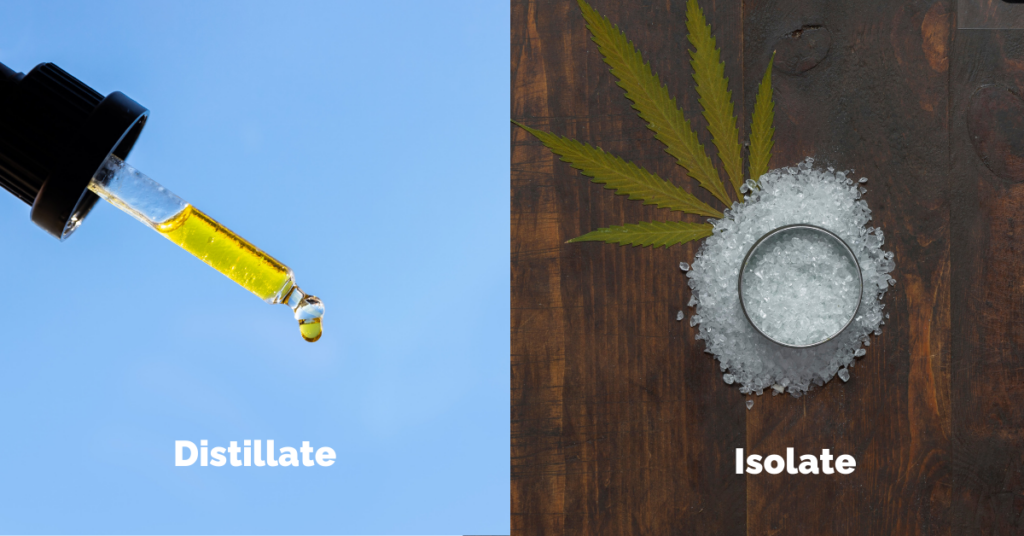 So, Which is Better, CBD Isolate or CBD Distillate?
After explaining the differences, you might wonder which one you should actually get. CBD isolate is pure, meaning there are no other cannabinoids; on the other hand, distillate does contain other cannabinoids. The full-spectrum distillate has the best effectiveness due to the different cannabinoids working together synergistically instead of just one by itself; this is called the Entourage Effect. You can learn some quick facts about the Entourage Effect in this carousel post. At South Tip, we believe that distillate is always the way to go. We actually don't sell any ingestible or sublingual products that only contain isolate, simply because we know that they don't work as well. Our tried and true sublingual tincture is our Soothe Tincture. With tinctures, doses can be easily adjusted, and the majority of regular consumers report better sleep, easier unwinding before bedtime, improved mood, easing of sore muscles, and an overall sense of lower stress levels. Our Soothe Tincture is our mildest tincture, containing only CBD distillate.
On the other hand, if you're nervous about trying something that contains small amounts of other cannabinoids (like THC, CBG, etc.) we recommend you try a topical first. Topicals do not enter the blood stream, but can easily relax tired aching muscles. This would be a good first step for someone that might be nervous about ingesting other cannabinoids. We have a great topical option that uses CBD isolate only, so it is great for beginners!


How to Take CBD?
You can choose from smokables, ingestibles, and topicals. Smokables will make you feel the effects of CBD the fastest, the ingestibles are the easiest but the effects take longer to experience, and the topicals are usually used for localized pain relief.
Depending on your goal and need, you can try any of the three forms and see which one works best.
What Makes Our CBD Unique?
The proximity of the Everglades, one of the most nutrient-rich wetlands in the world, creates a really special environment for our hemp to thrive in. In addition, the climate of South Florida allows for multiple harvests instead of just one, and a significant amount of rainfall allows for the crops to be watered naturally, preserving resources. Maybe most importantly, the breeze of the Atlantic ocean brings on a special flavor that no other farmland can replicate.
We also perform indoor experiments with the University of Florida's Institute of Food and Agricultural Sciences, testing out product ideas and delivering the best possible plants with the most effective results. Our young hemp plants grow in the greenhouses, which act as an early buffer while the plants gain strength and size, protected from potential hurricanes and other environmental threats.
And finally, our outdoor field spans over 70 acres which have been used for decades for farming purposes, making the soil incredibly rich in nutrients. The area is now exclusively used for the cultivation of CBD-rich hemp plants.
Final Thoughts
If you're interested in just trying out CBD, we recommend the CBD Topical or the Soothe CBD Tincture. Both are safe, effective, and a great introduction to CBD. Choose from a variety of products with unique flavor profiles and find your favorite.