You go online or enter a grocery store and see a bunch of CBD products on the shelves. They're all screaming "highest grade, organic, 100% pure CBD," so how do you know which one to choose? Are they all just marketing keywords designed to sell more products or do some brands really stand out from others?
To make things even more complicated, CBD falls under different regulations in almost every US state or country worldwide, leaving you confused when you're trying to get to the bottom of it. The bottom line: quality matters. It really matters.
Poor quality CBD can cause negative side effects in your body, from digestive discomfort, nausea, and vomiting, to diarrhea and overall inflammation. Especially since some of these products may contain toxic ingredients such as heavy metals, artificial thinning or thickening agents, a variety of different pesticides, solvent residues, and artificial flavoring. Not to mention, the flavor oil they might be adding can be full of toxins as well. That's why it's crucial to know the quality of your CBD oil or product before consuming it.
What is a COA?
COA stands for Certificate of Analysis and it's a third-party report that shows what's inside your CBD product. It tests a batch and shows whether it's pure or has some additional ingredients, fillers, solvents, or contaminants. Every CBD company should be able to display (at the very least) a batch code on their products that consumers can look up results on their website.
Even without adding any ingredients to the mix, hemp can easily absorb substances and toxins from the soil which can then contaminate the batch and impair the quality of your product. Additionally, certain extraction methods companies use can leave chemical residue and toxic waste, contaminating the plant.
That's why we're so proud to state that each and every one of our products has a COA, ensuring its quality, purity, and potency. You always know what you're getting. We have our COA displayed on every product in the form of a QR code making it easy for you to spot and acknowledge. All of our COA reports can easily be found on this page, organized by product type. Reputable companies will not bury their COAs. If a company makes it difficult for you to find the COA results, they have something to hide. Usually this means that the report found a discrepancy of potency, toxins, artificial ingredients, or other substances that shouldn't be there, and having you read the report will automatically deter you from buying it. 
Sometimes, the brand will have the COA displayed in hopes no one will actually take the time to read it. We encourage consumers to actually read it, because simply having the QR code on the back of their product packaging does not automatically mean their product is clean.
How Do I Read a COA?
When reading the report, here are a few important things to look for:
No pesticides, mycotoxins (mold), heavy metals, artificial fillers, artificial flavors
Is the manufactured date within a reasonable time frame? (everything over two years is a red flag)
Does the potency match what the label on the package says? (most often it does not, but within 10% is acceptable, within 5% is great)
Does the cannabinoid profile or the listed cannabinoids match what the label says? (in many cases, they do not)
Is the lab that did the COA a third-party lab, or did they do the results in-house? (third party is always better as in-house results can easily be fabricated)
In many cases, the potency listed on the label doesn't correlate to the COA. Missing or incorrect cannabinoid concentrations mean that the brand in question doesn't have regulated manufacturing processes and that's a major red flag.
With any manufacturing process, there will be discrepancies batch to batch. They key is knowing the company values. South Tip always aims to be within 5% of the potency on the label. In the example below, you can see that our testing was within 0.4% of what was stated on the label!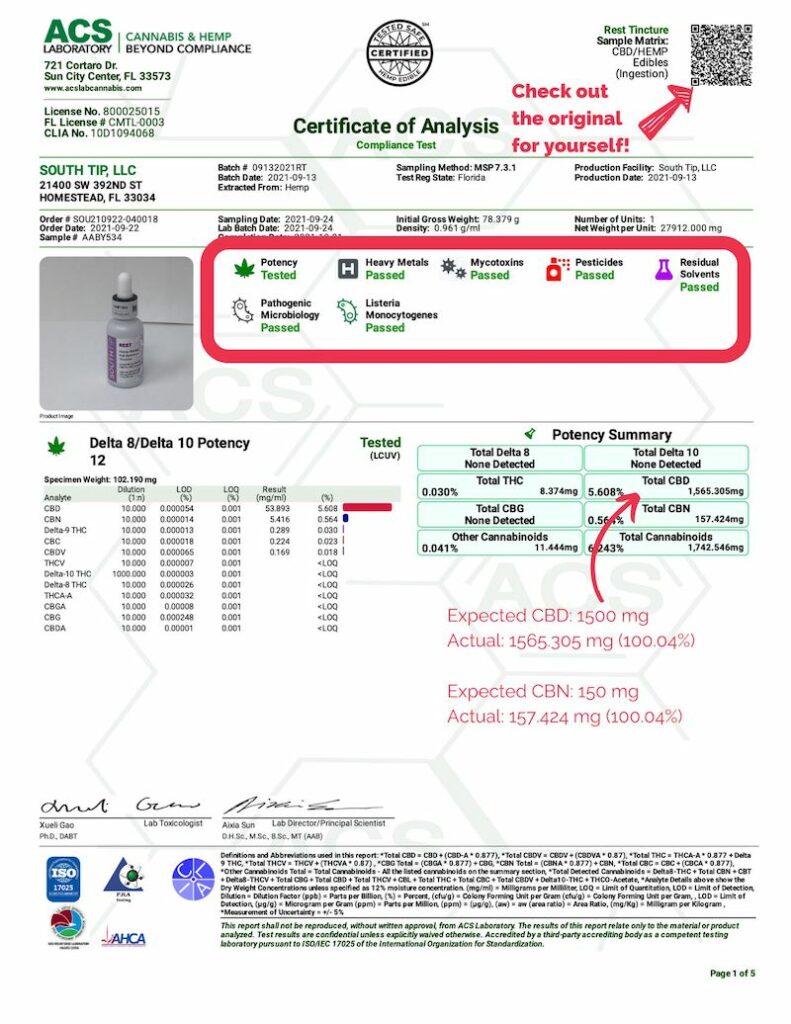 What Else Should I Look for on the Label of a CBD Product?
We've mentioned the COA and how important it is to: first, see the QR code on the package, and second, also read the actual report. Except for potential toxins, the actual dosages and potency of cannabinoids are the most important value to look for. Especially if you're looking at full-spectrum CBD that contains up to 0.3% THC–studies show how only 31% of products are actually labeled correctly.
Another important aspect of CBD products is having the contact information or location of manufacturing displayed on the bottle. If there's no way to find information about their manufacturing process on their products or on their website, it's a major red flag because there's no way to know how they extract CBD and what kind of safe processes they apply.
Final Thoughts
Buying CBD shouldn't be like getting your groceries. It's a process that requires a little bit of research and work from your end. Always read labels, go through the COA, look for reviews and testimonials, and check the additional information to ensure you're not getting a poor-quality CBD oil which will not only make you spend money on falsely advertised products but also potentially cause you harm in the process.
Shop Safe CBD Products Below