CBD products bring on a variety of different experiences and effects. While some prefer CBD smokables and topicals, others reach for the gummies and love the long-lasting effects they provide.
What are CBD Gummies?
CBD gummies are edible products including CBD, also known as ingestibles or edibles. They are the easiest and usually the most discreet way to enjoy CBD. If the gummies are made properly, the dosing is quite consistent. However, since they have to pass through your digestive system, it does take a little longer for you to feel the effects.
That being said, most people report their effects to be longer lasting than tinctures and topicals, potentially due to their slower release and exit from your body's system. They are a great option for someone who is new to the cannabidiol world and wanting to experience this powerful compound for the first time.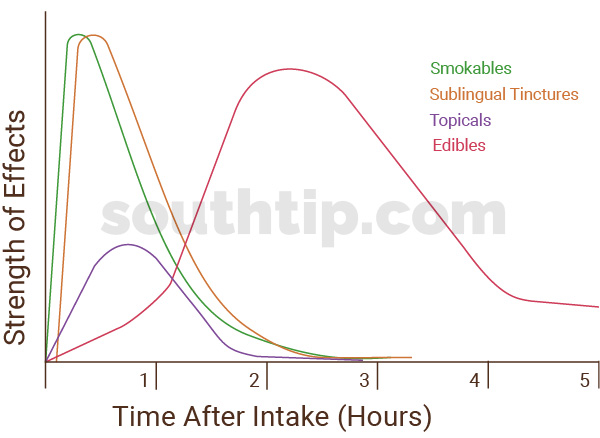 CBD is usually used by those who have anxiety and depression. It is helpful in lowering stress levels and overall inflammation, and can be a powerful addition for someone with insomnia or other sleep issues. Unfortunately, there are no officially regulated CBD edibles on the market, so it's important you do your research when choosing the brands you're going to buy from.
Our gummies are 100% infused as we NEVER take shortcuts when creating our products. We're just as proud of our gummies as we are of our topicals and pre-rolled smokables. Our gummies are made in-house from scratch, so we're overseeing every part of the production process. All of our ingredients are precisely measured so you get the same dose of CBD with every single gummy.
We are also proud to say our gummies taste delicious as the team spent months perfecting the recipe and honestly– they're hard to resist. We have a variety of different options of CBD gummies you can choose from, all with different effects, characteristics, and flavor options.
What are the differences between all the CBD gummy options?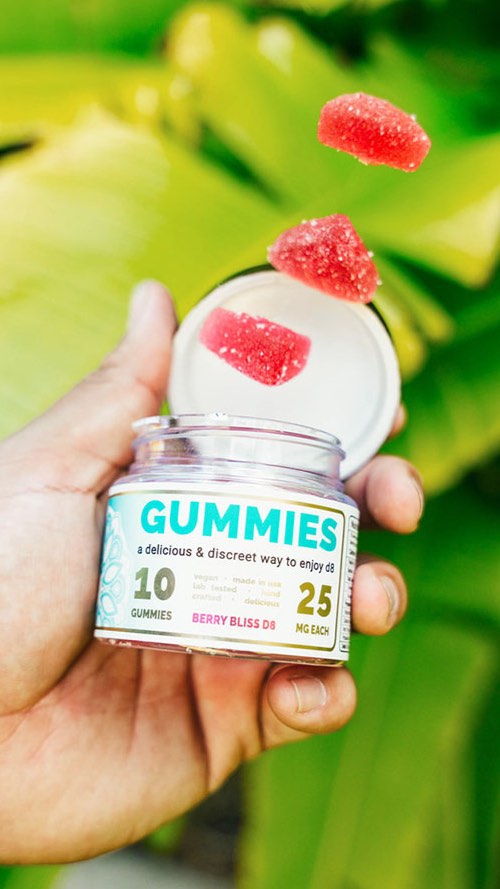 Pure CBD Gummies
These gummies contain only pure CBD and come with 25mg per serving. They are 100% infused and made from scratch, containing only the highest quality ingredients. They come in the berry bliss flavor and many people report it being their favorite gummy. This is a great option for beginners who want to start exploring the world of cannabinoids and test out the experience.
CBD + CBG Combo Gummies
These CBD + CBG gummies pack 25 milligrams (mg) of CBD and 25 mg of CBG in one gummy. CBG, or cannabigerol, is known as the mother of all cannabinoids and it is a non-intoxicating cannabinoid that won't get you high, but it will help reduce your stress levels and provide relief when you feel overwhelmed. We always recommend CBG for those that experience mental stress or have a hard time winding down after a rough day at work.
Our oil is 100% full-spectrum distillate, providing the famous entourage effect. All of our ingredients are clean and vegan, making them suitable for almost everyone. The elderflower flavor makes it not too sweet, but also mouthwateringly tasty!
Delta 8 Gummies
Our popular Delta 8 gummies are once again, made completely from scratch and in-house so we can ensure that the dosing is precise and exact. Each gummy contains 25 mg of Delta 8 and comes in two delicious flavors: mango and berry bliss.
Delta 8 is different from other hemp-based cannabinoids because it does provide a euphoric effect similar to THC. It's also known as "weed light" or "diet THC" as it is the perfect middle ground between CBD and THC, offering the best of both worlds.
That being said, Delta 8 can still be very intense for those who have not tried D8 or THC before. These gummies might not be the best option for beginners; for beginners we always recommend a tincture since you can better customize the dosing (think low and slow!) with the dropper.
What are CBD Gummies Used For?
Why would someone use CBD gummies instead of tinctures or smokables? Gummies are mostly popular for their delicious flavor which make taking CBD easy and convenient. Not everyone is interested in smoking, and tinctures require some basic measuring.
Additionally, CBD gummies are discreet so you can take them without having to explain yourself and in a lot of professional settings.
CBD gummies are usually used by those with anxiety, depression, high stress levels, or those that want to improve their mood. Furthermore, they are loved for their long-lasting effects and positive influence on insomnia and other sleeping issues, helping you sleep longer and better through the night.