If you want to explore the full power of cannabinoids, it's about time you get familiar with the entourage effect and how to experience it. Not every cannabis product is created equal, so you need to equip yourself with knowledge the next time you shop.
The quality of products matters, but so do the components–especially when it comes to the entourage effect. The combination of ingredients is what really influences whether or not you're going to get the full experience.
Knowing which products are better for feeling the entourage effect is one of the most important things you'll learn in this blog post.
What Is the Entourage Effect?
CBD and THC are the most popular ingredients of cannabis, but they are hardly the only ones that matter. If you want to explore the entourage effect, you have to look at the whole picture and consider every ingredient of cannabis.
The entourage effect is the combined influence of every ingredient that unlocks the full power of cannabis products. Those ingredients alone can't produce the entourage effect; the magic only happens when they work together. Harmoniously.
The entourage effect is greater than the sum of the product's individual ingredients. Compared to isolate products, you'll get a better overall effect if you let distillate components interact and do their magic.
Having said that, it's essential to distinguish CBD Isolate vs. CBD Distillate products. The graphic below gives you a bird's eye view of different products. You can see that distillate is less refined than isolate, so there are more components available for potential synergy. Our blog post here is a more in-depth resource you can check out.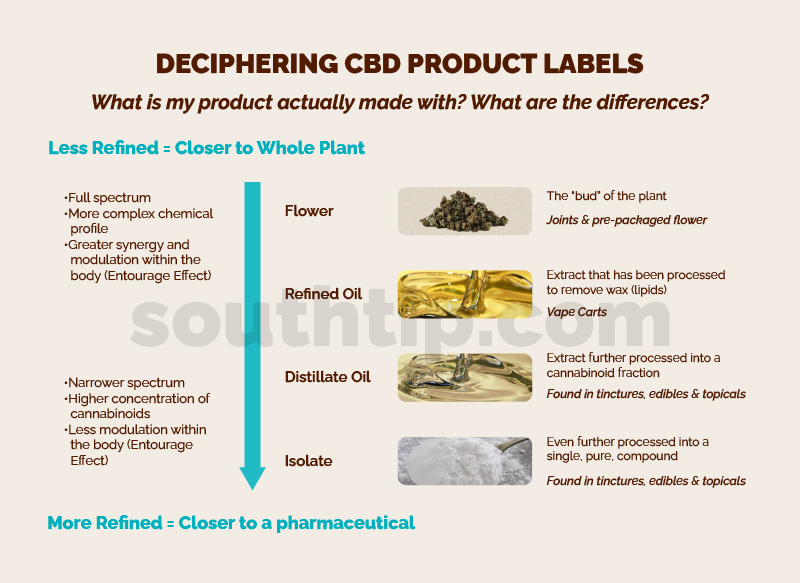 CBD distillate, full-spectrum products are the way to go if you want to explore the CBD entourage effect. CBD isolate products don't contain other cannabinoids, which means you can't get the entourage effect by consuming a product with only one isolate component.
Is the Entourage Effect Real?
Due to its extensive use and benefits, cannabis and its products have massively grown in popularity. From the relaxation advantages to improving your overall mood, more and more people turn to CBD to improve their daily life.
The cannabis industry also raises some controversial questions. Scientists have done multiple pieces of research to determine whether or not the entourage effect is in fact real. For now, the data is inconclusive, but the recent research from 2021 about the entourage effect and cannabis-based medicines gives us hope as it states some clear advantages of synergy among active ingredients of cannabis.
Improved efficiency and tolerance due to the additive effect of multiple compounds are the key conclusions from this study. Hopefully, more scientists will explore the entourage effect and realize its advantages, especially for chronic pain. Until further research on this topic, we advise you to try full-spectrum products and see for yourself!
What Does the Entourage Effect Feel Like?
When different cannabinoids work harmoniously towards the same goal, you get the entourage effect. While THC and CBD are important for the entourage effect, they'd be much less effective without terpenes.
Terpenes are aromatic ingredients that give hemp plants (or any plant) their fragrance. Terpenes close the loop; they enhance the power of cannabinoids and are crucial if you want to experience the entourage effect.
To know what the entourage effect feels like, it's important to note that it isn't the same feeling for everyone. It all depends on what you want to achieve. For example, if you want to feel at peace, cozy, and unwind, you wouldn't use products that have citrus terpenes, as these tend to energize and awaken. On the contrary, the lavender scent is known for its ability to help people relax, and why it is often used alongside sleep products.
The art of choosing the right full-spectrum products depends on what you want to achieve, and realize how every ingredient helps you with that.
How to Get the Entourage Effect
To get the entourage effect, you need to know which cannabis products have a high probability of producing it.
Full-spectrum distillate products that are rich in terpenes are your best bet for experiencing the entourage effect. It's also crucial to explore different consumption methods, such as edibles and sublingual tinctures or smokables, and see what works better for you. 
Everyone has individual preferences, and what works for others may not work for you. The key is experimenting with different products and various consumption methods to see what helps YOU get the entourage effect.
At South Tip, we've got plenty of full-spectrum distillate products that fit the bill. Check them out below:
Final Thoughts
If you want to unlock the entourage effect feeling and experience it to the fullest, then you have to take into consideration other ingredients, not just CBD and THC.
When shopping for products that will hopefully get you the CBD entourage effect, pay attention to how they're developed and if they're tested in 3rd party lab. Your priority should be consuming good quality CBD products above everything else.